Overview
These settings need to be changed if you want to prepend prefix to the Admin username field for every scripts.
This setting will be reflected in the enduser install page of scripts like WordPress, Joomla, etc.
This setting is located in Softaculous Admin Panel -> Settings -> General Settings In Enduser Setting Section.
Applying
You can select one of the three options as given below :
Username : This option will prepend users username.
Domain : This option will prepend domain name of the selected domain in the install page.
Admin Defined : By this option you can prepend any alphanumeric text. (You will be asked to type a text)
Note : Dont use '-' as we will be using it as a separator.
In the below image you can see the options to select the settings.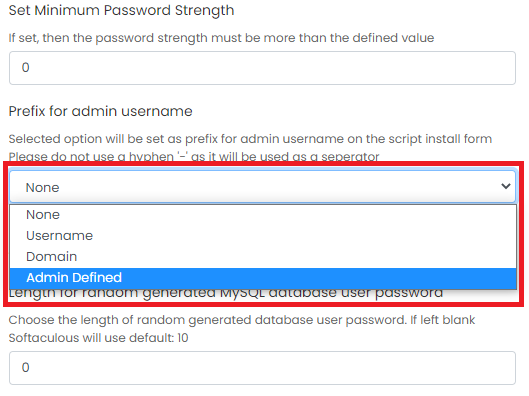 After selecting your settings. Click on Edit Settings at the bottom of the page as shown in the image below.

Notice from Softaculous will be displayed stating The settings were saved successfully.
Output
For example if you have select Admin Defined in the settings and I have entered random as the prefix for the admin username then the install page of WordPress(in this example) will look like the image shown below