We are pleased to announce the release of Softaculous plugin for Blesta. This plugin along with the easy to use Blesta UI makes it easier than ever to setup specialized hosting like WordPress Hosting, Joomla Hosting, Drupal Hosting, etc. The plugin will install the script on the user's domain after the cPanel account creation is completed.

Currently this plugin supports only cPanel. Directadmin and Plesk support will be added soon.
The Softaculous plugin will be shipped with the default Blesta package from Blesta 4.5+. If you would like to use this plugin with Blesta 4.4.x you can use the following download link.
Setting up the plugin is pretty easy and can be completed in just couple of minutes. Refer to the following guide for the steps.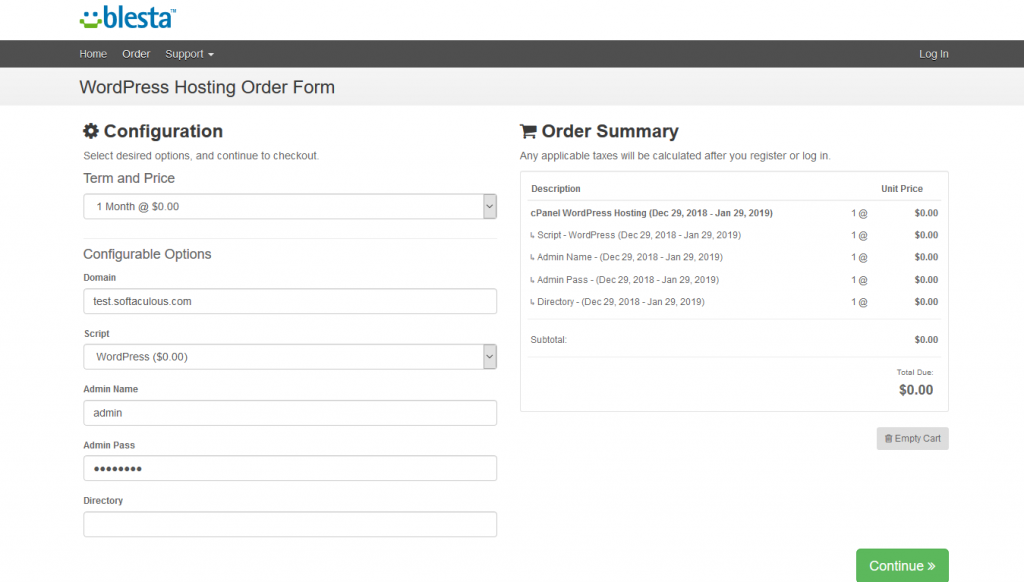 "Softaculous is must-have software for any shared hosting provider. Combining Softaculous and Blesta for automatic installation of software applications was a natural progression of our long-term relationship. The value it provides to hosting providers who put their trust in Blesta to power their businesses is extraordinary, and we know it will be a popular integration for years to come."

Paul Phillips, President, Phillips Data, Inc. / Blesta
Using this plugin allows you to offer Application Hosting for literally any script you would like to offer.
If you are looking for a Billing application for you hosting business, Blesta is the right choice.