We have released WordPress 5.0 package. We have also added a new branch for WordPress 4.9.x so if you are not yet comfortable with installation 5.0 you can install 4.9.8
Let's see what happens to your WordPress installs with this new version.
Auto Update (Minor Version)
Softaculous supports auto update for major as well as minor versions so if you have auto update enabled for WordPress for only minor versions, your installation will not be updated to 5.0 unless your update it from Softaculous enduser panel.
Auto Update (Major Version)
If you have auto update enabled for major versions as well your installation will be automatically updated to 5.0. However Softaculous creates a backup before auto upgrading your installation so if you feel you are not comfortable with 5.0 yet you can restore your installation from Softaculous Enduser panel -> Backups and Restore page.
The New Editor
WordPress 5.0 is shipped with Gutenberg editor as the default editor for your pages/posts. In case you face issues in editing with the new editor you can install the Classic Editor which lets you edit with the same feel as the familiar editor which was shipped with the previous version of WordPress. Support for the Classic Editor plugin will remain in WordPress through 2021.
You can one click install the Classic Editor from Softaculous as well on the Install, Edit as well as Upgrade installations page in the Softaculous enduser panel.
In case you need any support with the upgrades you can contact us via Support Ticket.
What's New with WordPress 5.0
Gutenberg – The new Block-Based Editor
The new block-based editor is the first step toward an exciting new future with a streamlined editing experience across your site. You'll have more flexibility with how content is displayed, whether you are building your first site, revamping your blog, or write code for a living.

The new block-based editor won't change the way any of your content looks to your visitors. What it will do is let you insert any type of multimedia in a snap and rearrange to your heart's content. Each piece of content will be in its own block; a distinct wrapper for easy maneuvering. If you're more of an HTML and CSS sort of person, then the blocks won't stand in your way. WordPress is here to simplify the process, not the outcome.
Here are some default Blocks that are included in WordPress 5.0
Paragraph
Heading
Preformatted
Quote
Image
Gallery
Cover
Video
Audio
Columns
File
Code
List
Button
Embeds
More
Twenty Nineteen – The New Default Theme
Twenty Nineteen, the new default theme that shows off the power of the new editor.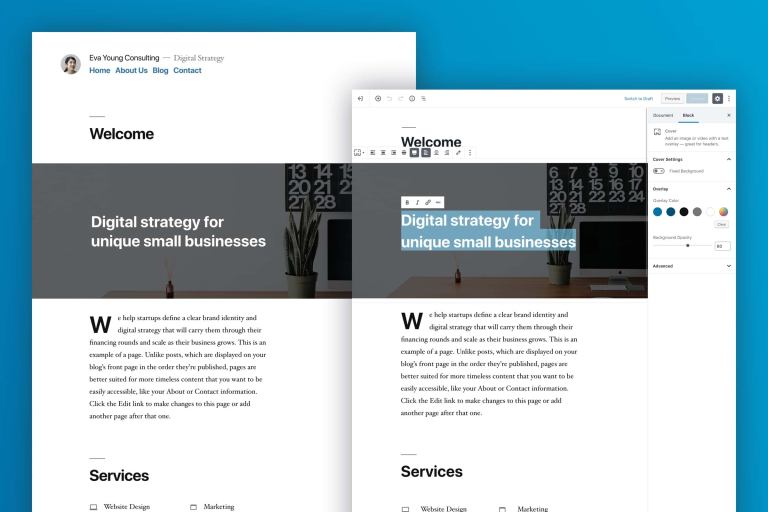 Designed for the block editor
Twenty Nineteen features custom styles for the blocks available by default in 5.0. It makes extensive use of editor styles throughout the theme. That way, what you create in your content editor is what you see on the front of your site.
Simple, type-driven layout
Featuring ample whitespace, and modern sans-serif headlines paired with classic serif body text, Twenty Nineteen is built to be beautiful on the go. It uses system fonts to increase loading speed. No more long waits on slow networks!
Versatile design for all sites
Twenty Nineteen is designed to work for a wide variety of use cases. Whether you're running a photo blog, launching a new business, or supporting a non-profit, Twenty Nineteen is flexible enough to fit your needs.
Source : wordpress.org