ownCloud gives you universal access to your files through a web interface or WebDAV. It also provides a platform to easily view & sync your contacts, calendars and bookmarks across all your devices and enables basic editing right on the web. Installation has minimal server requirements, doesn't need special permissions and is quick. You can also ownCloud by one click via Softaculous. ownCloud is extendable via a simple but powerful API for applications and plugins.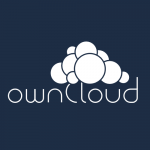 1. Access Your Data :
Store your files, folders, contacts, photo galleries, calendars and more on a server of your choosing. Access that folder from your mobile device, your desktop, or a web browser. Access your data wherever you are, when you need it.
2. Sync Your Data
Keep your files, contacts, photo galleries, calendars and more synchronized amongst your devices. One folder, two folders and more – get the most recent version of your files with the desktop and web client or mobile app of your choosing, at any time.
3. Share Your Data
Share your data with others, and give them access to your latest photo galleries, your calendar, your music, or anything else you want them to see. Share it publicly, or privately. It is your data, do what you want with it.
4. Versioning
Did someone make a change to a shared file that you don't like, or did you accidentally delete a section of the file that you need? With the Versions Application enabled, ownCloud automatically saves old file versions – you configure how much to save. To revert, simply hover over your file and roll back to a previous version.
5. Encryption
Do you want to make sure that your files remain secure on the server? With the Encryption Application enabled, all files stored on the ownCloud server are encrypted to your password. This is helpful if you store your files on an untrusted storage outside the ownCloud server. Add to this an SSL connection, and your files are secure while in motion and at rest.
6. Drag and Drop Upload
Working on a computer and don't want to install the entire ownCloud client? Simply log into ownCloud in a web browser and drag and drop your files from your desktop into your desired target directory in the web browser. They will be automatically uploaded to the server.
7. Themeing
Want to make ownCloud look and feel like the rest of your site? Use the new theming directory functionality. Any style or image that you place in this directory will be used in place of standard ownCloud fonts, colors and icons.
8. Viewer for ODF Files
Want to read open document format files without downloading them? Enable this Application and you can click on any ODF formatted document (.odt, .odp, .ods) and read it in your web browser with no download required.
9. Application API's
Want to add features and functions to ownCloud? New publicly defined APIs make creating applications for ownCloud much simpler, enabling add on functions a stable integration point for future versions.
10. Migration and Backup
Do you have multiple ownCloud instances, perhaps a primary and a backup installation? Now you can easily move your ownCloud user accounts between ownCloud instances, and have a backup ready when you need it.
11. Tasks
Want to keep track of that all-important to do list? With the Tasks Application, you can easily sync your to do lists with your ownCloud instance.
12. Application Store
Want to add one of the existing applications to ownCloud? Simply enable a new application in settings, and it will be automatically downloaded and installed in your ownCloud instance.
13. Calendars
Want to share your calendar with other users of ownCloud? Enable the Calendar Application, open your calendar, select share, and choose the users or groups you want. You can be sharing your important calendar and important events in no time.
14. File Notifications
Now you can notify others when a file is shared, making it faster and easier to start sharing those documents, home movies and whatever else you choose.
15. Galleries
Want better control over your shared photo gallery? Now you can specify the ownCloud photo directories, sort order, share your galleries with any email address you choose, and control whether they can share those photos with anyone else.
16. External Storage
Do you want one place to access all of your Gdrive and Dropbox files? Then this new experimental feature is something to look at. With the External Storage Application enabled, you can mount your external storage as a folder inside your ownCloud instance, and use 1 interface to access all of your files.
17. Logging
Want to integrate ownCloud into your existing syslog service? Now ownCloud can write to syslog log files as well as the existing ownCloud log file.
18. LDAP / Active Directory
Want to manage ownCloud users from a directory? Now ownCloud enables admins to manage users and groups from their LDAP or AD instance.
Source : https://owncloud.org